News
The perfect fit!
Have you got customers with especially wide or narrow lobes? Do some of your clients have trouble with labrets being too short or have you ever had someone that needed an extra short nostrilscrew? Well, then Gorilla Glass Germany is the right place for you! Our aim is to make beautiful, unusual and above all, wearable jewelry for all sizes, lengths and widths.  Because all of our jewelry is made by hand it's no trouble at all to adapt the length or wearbale width to the customer's exact wishes with most products. And the best news is that most custom sizes don't come with an extra fee! Whether you'd like a solid plug with a special 14 mm length instead of the usual 12 mm or you need a bullet hole with an especially narrow wearable width, we can custom make (almost) any types of plugs and eyelets. If you or your customers need a special size just drop us a line at: info@gorillaglassgermany.de
Fun, fair, Gorilla Glass
Gorilla Glass jewelry has been produced in Oaxaca, Mexico by qualified and highly talented craftspeope for over 10 years. The team consists of mainly local women from the rural outskirts of Oaxaca City. Gorilla Glass is extremely proud to offer these women a nice and friendly work environment as well as a range of benefits for them and their families. Unlike cheap and mass-produced piercing jewelry from acrylic that is often produced under awful working conditions, Gorilla Glass prides itself on making sure that all employees are happy and taken care of. Full medical insurance for employees and their families, as well as, paid vacation and maternity leave, free day care and education opportunities are just a few of the benefits Gorilla Glass employees can expect. You can be sure that each and every plug or eyelet that is produced through the hard work and patience of the Mexican women is made with a smile and is justly rewarded.
Shannon Larratt Charity Drive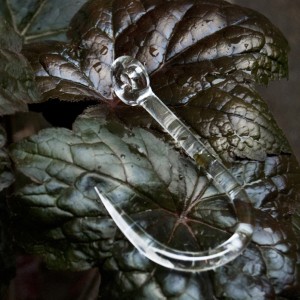 As most of you probably know the tattoo & piercing community lost a true legend this March. The found of BMEzine Shannon Larratt passed away at the age of only 39. Gorilla Glass has produced a number of Limited Edition suspension hooks in honour of the charismatic Canadian with all proceeds going towards supporting Shannon Larratt's daughter.